Othello is a great play to teach in high school. Iago is a great villain. Desdemona is a perfect innocent victim, someone who doesn't deserve the treatment she received from a jealous significant other. They can relate to the play because they have all missed out on a leadership position that was given to someone they felt wasn't as qualified as they are (especially if you teach it to seniors. Many of them were denied entry to a college that accepted someone else they know.) They get that revenge if taken too far can be a destructive emotion.
My students like Othello even if they struggle with the language. For many of them, Shakespeare is something you should do in school, and they like the challenge. However, one area I always struggled with was how to introduce each act so that they had enough information to understand what was going on, yet not so much that reading the play became unnecessary. Also, I am always looking for something to make Shakespeare more accessible. So I made the following set of comics.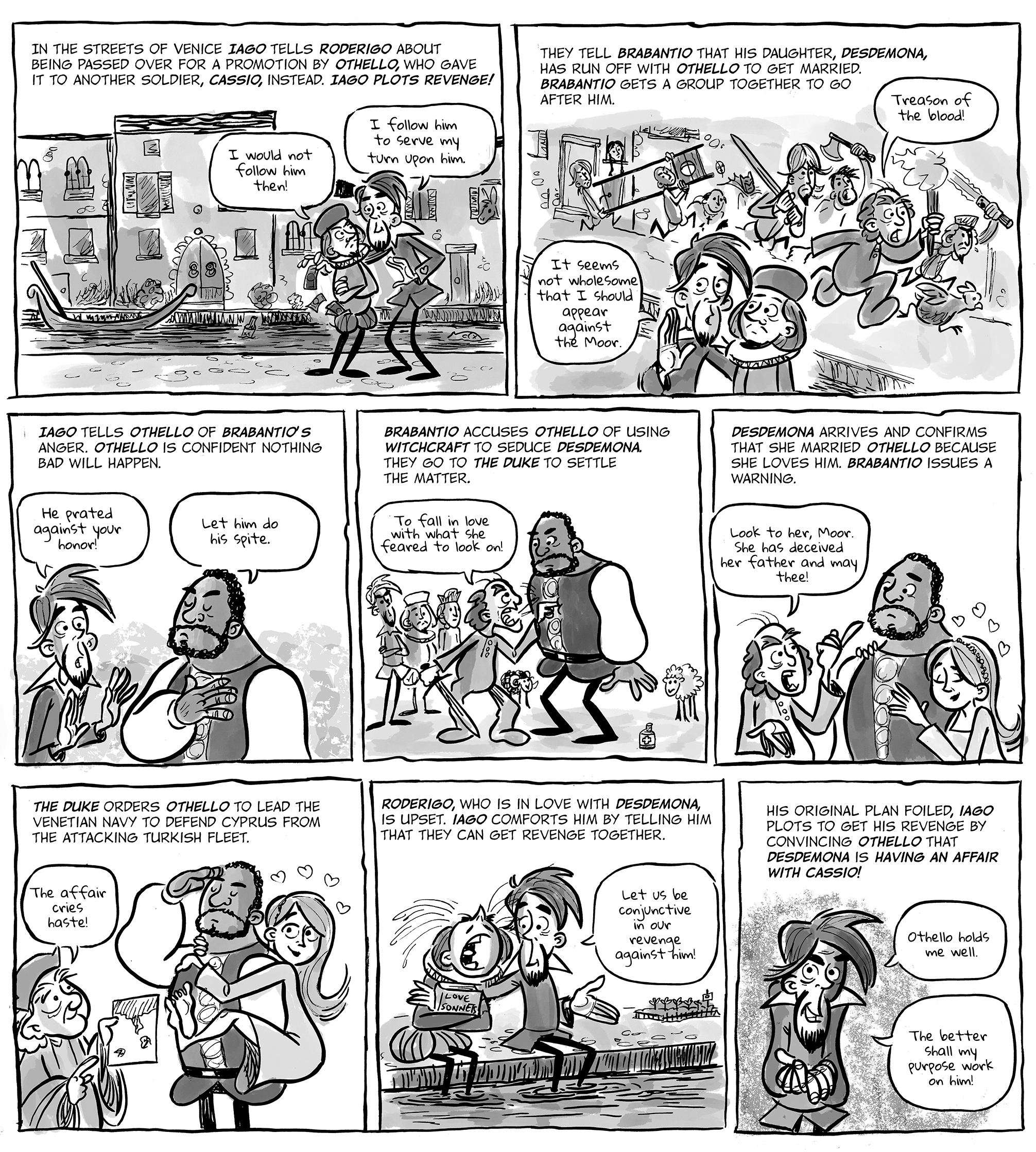 The comic image above is from Othello: Comic Summaries and Activities. The comics provide an overview of what happens in each act in a fun and humorous way that is inspired by a misspent youth reading MAD magazine, comics,  and other irreverent publications.
They are a fun alternative to handing out summaries of the acts. For one thing, they don't give too much away. Second, I have hidden Easter eggs throughout the panels of metaphors and images from each act (for instance, you'll notice a black ram and white ewe in the middle panel.)
In addition, I have included a bunch of fun activities to do while reading the play that get students interacting with monologues, digging deep into the text, and examining the motivations of various characters. There's even a puzzle page!
Of course, since this is the students' first exposure to Shakespeare, you'll need to introduce the bard and do a warm-up activity or two. I have a set of Shakespeare Bell Ringers that introduce students to the language of the bard. Plus, if you go to my store you'll find a bunch of other Shakespeare resources. And if you want a FREE comic that introduces Shakespeare and provides a little more background and an activity with a sonnet, click below and you'll get it!

If you'd like even more fun things you can do with Shakespeare, you can find them in my Shakespeare activities bundle, which includes the Shakespeare biography, a lesson on iambic pentameter, and a lesson on Sonnet 18.
Learning should be fun! Check out my Teachers Pay Teachers store for fun resources like the ones you see below.