Every morning on the way to school I pass by a business called Breakout, which hosts escape room parties. I've never done one, but what happens is a group of people is locked in a room together and have to solve a series of puzzles to escape some fate, like being eaten by a zombie or being busted by the police. They seem like a lot of fun and maybe one day I'll get the chance to do it.
They are so much fun, in fact, that Danielle Hall has developed escape rooms that you can use with the teaching of Shakespeare. Her Romeo and Juliet Escape Room, for instance, provides a lively, competitive way to review the main concepts of the play. She also has one for background information on Shakespeare that I can't wait to use with my students. And if you don't teach Shakespeare, she can help you create your own escape room for a novel or play that you teach.
Danielle and I are both devoted to making the study of Shakespeare as much fun as we possibly can, so we decided to interview each other about our resources. Click here to go to her blog post, where she interviews me.
So what is an escape room? And have you done one?
This is a totally cool piece of nerd history, but I promise I'll keep it brief. Escape Rooms originated as adventure video games back in the 80's and evolved into puzzle games in the early 2000's in Japan. The concept was transformed into live "trapped in a room games" by 2007, but didn't really come to the US until 2015 or so, and only in big cities.
I did my first Escape Room at the NC Outer Banks in 2016, and I've been hooked ever since. We were looking for Blackbeard's treasure or something, and the game took about 45 minutes. We'd solve puzzles and new game components would unlock to us. I knew during that very first game that I wanted to apply the concept to the classroom.
How does the basic concept apply to your escape rooms?
One of the things you'll find in a live game like the Blackbeard's Treasure one we did is that your teammates will find items or hints that you didn't notice. It's really important that everyone tells the team when they've found something, even if they don't think it's helpful. Then your team can work together to understand how information applies to the puzzles. It's all about critical thinking, collaboration, and communication.
In my games, students work together in teams to solve puzzles. As they progress, they gain more information for subsequent levels and oftentimes, hints to decoding a Secret Message. For example, in my Romeo & Juliet Escape Room, students use their knowledge of plot, characters, conflict, and theme to solve puzzles. The codewords they get from each task help them decode a final message. Sometimes hints and items are hidden throughout the classroom, so it's a super interactive (and loud!) experience for them.
Do you envision escape rooms as a replacement for other forms of assessment like essays or tests?
I don't. Rather, I always recommend teachers use them to introduce or review a concept. For example, I have a Harlem Renaissance Escape Room that provides students with an overview of the era. It gets students excited about the history and famous figures. Once you've captured their interest, you'll have more buy-in for lengthier research and assignments.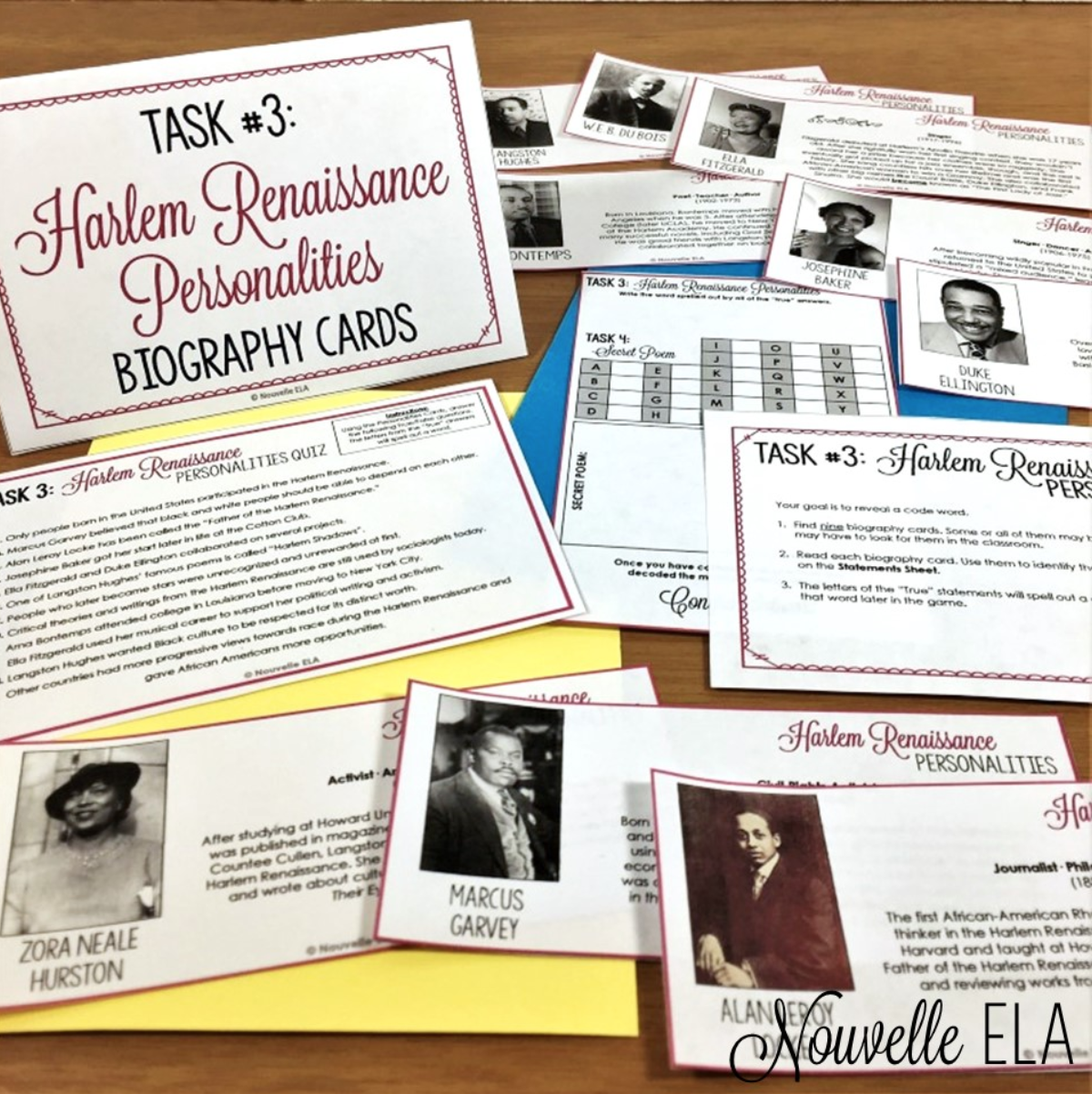 Another reason that I don't like the idea of grading Escape Rooms is that students need to feel okay failing. In live games, there's often only a 50% success rate! More difficult rooms will brag about their low success rates to let you know that you're signing up for a real challenge. Whereas I like to make my games have a higher success rate than that, there's still the possibility that students won't work well as a team or won't see all the clues… adding in a graded component just muddies the water of the game's goals.
I think that's awesome, and we definitely need to move students away from thinking that everything needs to be a grade.
How much prep time does it take to get the escape room going? Can I do it tomorrow?  
I always get this question! I try and make everything as easy as possible for teachers with Print Checklists and ideas for set-up, but there's still time involved. If you buy a ready-made game, you should ALWAYS play through it first to get an idea of where your students may encounter difficulty. I'd say that between previewing, printing, and setting up, you're looking at at least 3-5 hours of work. It's like planning for a field trip. It's totally worth it, though! You'll engage students you've never seen interact with their peers or the subject matter before.
I also have an editable ELA Escape Room, and this sort of thing takes even more set-up. Even though I've tried to make it as easy as possible, you're setting up a customized game for your classroom, and of course there's going to be time involved. I usually recommend 7-10 hours to make your own game with this resource.
How do you introduce Shakespeare to your students?
Well, my students seem to have very little understanding going into Shakespeare of how different life was. They either think that society was totally in the Dark Ages, or they assume that Elizabethans were more technologically or medically advanced than they were. I capture students' interest by showing the first five minutes of the Doctor Who episode, "The Shakespeare Code." The Doctor and Martha arrive in Shakespearean London, and the Doctor does a very comedic comparison of those times to ours. After that, I have students write a letter to Shakespeare explaining one of our modern technologies.
The other thing I do is engage them right away in William Shakespeare, the man, the myth, the legend. They play through a digital escape room I created to learn about Shakespeare's life and Elizabethan London. They play as Alex, a young aspiring actor who has to go on a quest to help find the missing script!
In what other ways do you make the teaching of Shakespeare fun and approachable?
I have an acting background, so no unit is complete for me without some acting. We do abridged versions, famous scenes rewritten as skits, or each act as a different genre or in a different time period. Like you, David, I don't want students to feel like it's too "stuffy" for them. The Globe was a lively place with audience participation (cheers and jeers!), pop culture references, and ad-libbing depending on the crowds or the sobriety of the actors. I want students to have permission to play with the text.
I also really love your comics, and so do my students! We use them throughout Romeo & Juliet and they're always clamoring for more. I even had a student decide once that he wanted to draw his own comic of one of the scenes… I really regret that I never got a photo of his work for you. I think your work really helps students imagine how they can start to have some ownership of the text. In addition to artwork, they've also done genre rewrites (Much Ado as a tragedy) and even Shakespearean fanfiction! I love it all!
Awesome! I love hearing that I inspire students to create their own comics. Do you have anything new and exciting in the works? Like more escape rooms? Or something completely different?
Yes! I'm working on a big project now, which is an adventure game for struggling readers. Students will unlock the mystery of the small Western town of Burnbridge. Over the course of ten games, they'll play as different protagonists who eventually work together to discover (and solve!) the town's mysterious and dark history. We've got an amazing artist on board providing incredible game visuals, and the final version will be playable as a digital game. I can't wait to share it with everyone!
Thank you so much for this conversation, David! It's been great to chat about ways to make Shakespeare fun and engaging for all types of learners.
To read Danielle's interview with me about how I use comics to teach Shakespeare, click here.
And if you'd like to get more great ELA lessons, why not click the box at the bottom of the page? You'll get a free lesson on Robert Frost's "The Road Not Taken" plus great teaching ideas delivered in your inbox.
Learning should be fun! Check out my Teachers Pay Teachers store for fun resources like the ones you see below.